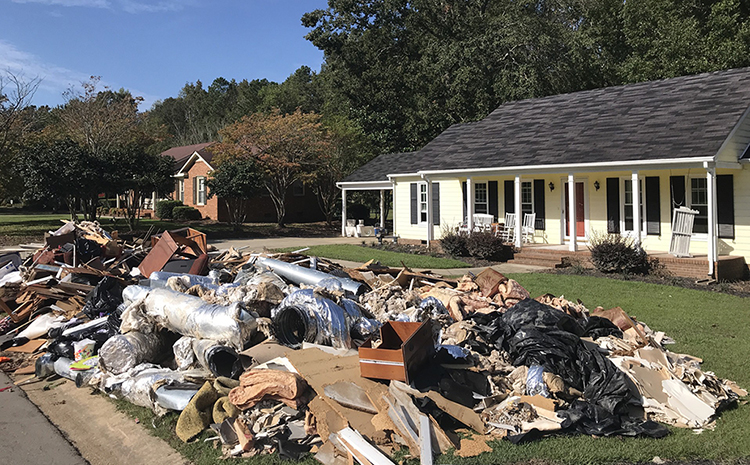 Due to all the floods in recent years in cities like Austin, San Antonio, Dallas and of course our local Houston area, most homeowners now know that their homeowner's policy does not include flood coverage. Unless you are in a high-risk flood zone, obtaining flood insurance is not a requirement when purchasing a home. However, if the home is located in a high-risk flood zone, your mortgage company will require flood coverage for that property. FEMA (Federal Emergency Management Agency) manages NFIP (National Flood Insurance Program) which allows homeowners to obtain Texas flood insurance backed by the federal government. Although most homeowners opt for an NFIP policy, there are other private options available, but those policies usually come with a higher premium.
Is my house in a flood zone?
You can go to FEMA's website (https://msc.fema.gov/portal/search) which has the flood insurance maps to determine if a property is in a flood zone. However, the easiest method is to contact our office and one of our agents will be happy to provide you with a flood insurance quote. You can send an email to quote@ironproperty.com or call 281-648-1981.
FEMA flood maps categorize each property into a "zone." Generally, zones B, X, and C have the lowest risk while zones starting with an A or V are high-risk flood zones. You may be wondering "what zones require flood insurance?" If you are in a high-risk flood zone your mortgage company will require flood coverage. If you do not have a mortgage and are located in a high-risk flood zone then it is still in your best interest to get flood coverage.
In Texas, a seller must now disclose if their property is in a flood zone and/or if it has been flooded before. Also keep in mind if the property is in a high-risk flood zone and the seller does not have a current elevation certificate, you may be required to purchase one before you can buy the home. Flood elevation certificates are used to determine the base flood elevation of a property and are needed to obtain a flood quote.
What does flood insurance cover?
In Texas, the maximum coverage amounts NFIP policies can provide are $250,000 for building coverage and $100,000 for contents coverage. Building coverage amounts will cover the actual structure of the building such as floors, walls, windows, as well as electrical and plumbing systems. If you have a detached garage only about 10% of the total building coverage listed on the policy can go towards repairing the garage and will be subtracted from the total amount of the building coverage available. The contents coverage amount will cover your personal belongings such as your clothing and furniture.
Unlike your homeowner's policy that usually has additional living expense coverage, NFIP flood policies do not provide that coverage. If you must move out of your home due to flood damage your NFIP flood policy will not pay you for your living expenses incurred while you repair your home. If you are currently renting a property, you can also get flood insurance for renter quote to protect your personal belongings in case of flood damage.
How much does flood insurance cost in Texas?
If you are located in a high-risk flood zone there is no "base" price for a flood policy. There are many factors that determine the premium and the rate can range anywhere from a few hundred dollars to thousands of dollars. As of January 2020, the "base" price of a flood policy in a preferred risk X zone is about $500 for an annual premium. This amount continues to rise year after year as flood events keep rising in the state of Texas. There is no such thing as cheap flood insurance in the state of Texas. However, obtaining a flood policy will provide you with some peace of mind in case another Hurricane Harvey flood disaster strikes.
Getting a flood insurance quote does not cost you anything so don't hesitate to call Iron Property Insurance for a quote today!